Back to the Basics
Back to the Basics takes you on a journey to Luckenbach, Texas, the place "where everybody's somebody." Interspersed with live musical performances by players in the "pickin' circle" you will feel as if you are sitting at the bar as all of the stories intertwine to complete your journey.
The Brothers Warner
The Brothers Warner is an intimate portrait of the four film pioneers who founded and ran Warner Bros. for over 50 years. This is the inside story of the little known major player in the Warner Bros. studio legend, Harry Warner (Cass' grandfather); honest Abe, visionary Sam, and volatile Jack—the original Hollywood independent filmmakers.
Townes Van Zandt- Be Here to Love Me
As a musician, Townes Van Zandt was legendary—perhaps one of the greatest who ever lived, inspiring artists from Bob Dylan to Norah Jones to Steve Earle. Director Margaret Brown's Be Here to Love Me presents an insightful look at the sacrifices, challenges, and consequences faced in pursuit of a dream.
Rock N' Roll Made In Mexico

From Evolution to Revolution "Rock 'n' Roll Made in Mexico " is the story of Mexican rock told by intrepid filmmakers Lance Miccio and Rock icon Fito de la Parra .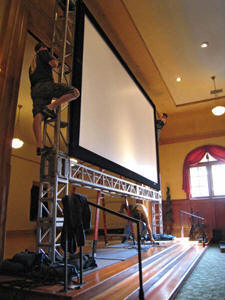 Women In Boxes



Women in Boxes is the first film to uncover the story of the Unsung Hero behind the magician. The devoted, if not masochistic Magic Assistant who distorts her body into impossible positions while the magician cuts her in pieces, stabs her incessantly, sets her on fire, crushes her, dismembers her, restores her to life with a dramatic Taa Daa and takes a bow to wild applause. Who is the woman who would subject herself to such torture, not to mention, the Magician's Ego?
The Wrecking Crew

The movie has been making its way through the film festival circuit, and in fall 2008 will also be screened in San Diego, Boise, Vancouver and Mill Valley.
For anyone who has listened to The Beach Boys, The Monkees, The Mamas and the Papas, and many other popular bands from the 60's, The Wrecking Crew exposes the true artists behind the music and what day to day life was like for these people.