JOEL DIAMOND PAST MUSIC IN MEDIA
AWARD RECIPIENT RETURNS

Interview with Music in Media Award

recipient Joel Diamond

Joel's daughter Brianna announces

his Music in Media Award
Diamond began his music industry career by heading up MRC Music (the publishing arm of Mercury Records). He scored his first #1 record with "This Girl Is A Woman Now," as recorded by Gary Puckett and the Union Gap. He followed up with Steam's #1 "Na, Na, Hey, Hey" (on which he is also was one of the background singers) and then the Supremes' and Temptations' smash duo of "I'm Gonna Make You Love Me."
He organized MRC Music with keen instinct and by setting high standards for himself. He recruited virtual unknowns at the time such as: Janice Seigal, who is currently and has been from inception the lead singer of Manhattan Transfer; Phil Cody, who went on to write numerous top 10 hits with Neil Sedaka; Don Oriolo, the force behind Lisa Lisa's success, and also the current copyright owner of the famed cartoon characters Felix The Cat and Casper The Ghost; artist Benny ardones, who scored his top 10 record twice with "Into The Night"; songwriter Alan Bernstein, who wrote "This Girl's A Woman Now," and later penned Engelbert Humperdinck's #1 records for Diamond, "After The Lovin'" and "This Moment In Time." Robert Flax, who is the former President of EMI Music International and former partner with the law firm of Grubman/Indursky; and last, but not least, Diamond's #2 man and assistant, Tommy Mottola, who with Diamond's help, landed him his position at Chappell Music, which in turn afforded him the opportunity to launch the careers of Hall & Oats. Mottola, former husband of diva Mariah Carey, current husband of Thalia, Latin soap opera queen and pop star, currently heads up his own Universal distributed company after serving for 15 years as CEO of Sony Music Entertainment.

Clive Davis, former President of Arista Records, then President of CBS Records, became aware of Diamond's accomplishments. Davis brought Diamond on board and positioned him as the head of the CBS Music Publishing Division (replacing Tony Orlando, who was then riding the crest of his second #1 record, "Knock Three Times") to oversee the New York, Los Angeles, and Nashville offices, as well as part of Clive's personal A&R staff at CBS Records.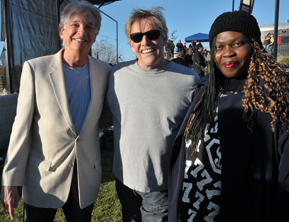 Joel, Gary Busey and Ann Dandridge

Diamond initiated his publishing/record signings with an unknown group, Dr. Hook & The Medicine Show, who went on to achieve 62 gold and platinum records worldwide. His second signing was that of two brothers who had written the classic song "Never My Love," which not only achieved the #1 position three different times by three different artists, but also just recently received an unprecedented 6 Million Performance Award from BMI. The Addrisi Brothers, thanks to Diamond, now had their first #1 record as recording artists and writers entitled "We've Gotta Get It On Again," which today Joel owns 50% of as well as at least 25 other Addrisi songs. Mama Cass' last top 10 record "Move In A Little Closer" hit the charts during this era and is currently owned by Diamond's publishing company.

It was also during this period that Diamond's music publishing career flourished and gave him the opportunity to work closely with such giants as James Taylor, Laura Nyro, Harry Nilson, Van Morrison, The Bee Gees, Rod Stewart, Barry Manilow, David Bowie, etc. and build long lasting relationships at every level with gifted songwriters, producers, managers, studio owners, attorneys, and record company heads, many of whom are today's power brokers of the industry. One such example is David Geffen, who recently donated 200 million dollars to UCLA according to a recent article in the LA times, and states that it all began in 1971. It was Diamond who was pivotal as the head of the publishing company, along with CBS chief Clive Davis, that afforded Geffen his first seven figure deal for Laura Nyro's Tuna Fish Music, which in turn afforded David the luxury to sign Linda Ronstadt, The Eagles, and Jackson Browne, which in turn became the nucleus and gave birth to Asylum Records

After several successful years at CBS, an offer made to Diamond to establish and run his own record label came from Polygram International. He used this opportunity to now produce records for his own label, which also afforded him the luxury to produce for outside labels. This was the birth of his currently successful "boutique" publishing companies, Silver Blue and Oceans Blue Music Publishing Companies, as well as the creation and inception of Silver Blue Records, and Silver Blue Productions.

Gearing his label early on toward R&B and Dance, he scored no less than 27 chart successes, including several Billboard #1 R&B singles. Silver Blue Records signed Van McCoy as an exclusive artist, best known for his ground-breaking hit/dance, "The Hustle," which also benefited Silver Blue Music by Joel purchasing 29 Van McCoy copyrights at the same time. Enjoying the art of producing, he carried it one step further by creating his own sound with himself as the artist. His first album that rode the charts during the height of the disco craze was "The Joel Diamond Experience" on CBS Records followed by his Casablanca album, then a top 50 single Billboard hit, "Theme From Raging Bull" on Motown, followed by an independently distributed album entitled Joel Diamond's "House Gold," and finally, Joel Diamond's classic rendition (still being played today in clubs as the end of the evening spin), "Super-Strauss," on Atlantic Records.

To add yet another dimension to his string of successes, Diamond was approached by film producer Frank Capra, Jr. to write and produce the title song for Capra's new movie, "Paradise," starring Phoebe Cates. The result was an astonishing success. The "Theme From Paradise" became a gold and platinum record, selling 712,000 copies in Italy alone, and remained #1 for an amazing 22 weeks. It also became the vehicle for Diamond to land Cates an entire album deal with CBS International. Having proven successful with this project, the title track to a John Belushi movie, "Continental Divide," came next with Helen Reddy singing the title song, and then a Diamond composed piece for the film, "Swamp Thing," both songs being produced by Diamond.

Diamond co-wrote the title song for Gary Nardino's highly acclaimed Showtime Cable TV sitcom, "Brothers," which is now in network syndication. The show prides itself on achieving a "first time" cable record of over 100 episodes. In addition, Diamond has had his copyrights performed on such major TV shows as Chicago Hope, ER, Friends, Beverly Hills 90210, 2001 Super Bowl, etc., as well as multiple features.

A film director in search of authenticity (for what turned out to be a critically acclaimed movie) gave Diamond an opportunity to stretch his talents even further. Diamond co-starred with Ruben Blades and Elizabeth Pena in one of Miramax's first films, if not the first, "Crossover Dreams." The film portrays Joel Diamond a/k/a Neil Silver giving a break to a Latino recording artist, Ruben Blades a/k/a Rudy Velez, and successfully crossing him over from the Latin market into the American market. Diamond still maintains a close and special relationship with Miramax CEO, Harvey Weinstein.
__________________________________________________________

Certainly one of the apexes in Diamond's career thus far has been the 12 successful albums he has produced for recording artist, Engelbert Humperdinck. "After The Lovin'," a 100% owned Diamond copyright, which was nominated twice for a Grammy, achieved platinum album and gold single status, won most played "Jukebox Record of the Year" award, top 10 best sheet music seller of all time, and has surpassed the 3 million radio/TV performances as logged by BMI (closing in on 4 million,) which has only been accomplished by 40 songs in BMI history and carries with it substantial monetary bonus awards. "This Moment In Time," another #1 record and 100% owned copyright, is close to follow the achievements of "After The Lovin'." Just recently, a new Diamond produced Humperdinck album turned platinum in several European countries, and a second one on its way. It was also during this period that Joel became a virtual magnet for many diversified Country, R&B, and Middle of the Road Artists that the industry had given up on and boosted their careers by producing Billboard Hot 100 chart singles for such artists as: Al Martino, Lana Cantrell, Eddie Arnold, Billy Crash Craddock, James Darren, Jack Jones etc. In addition, Diamond became personal manager for film and TV to Jack Jones, Vince Edwards, Edd "Kookie" Byrnes, Soupy Sales, etc.
__________________________________________________________

An interesting occurrence in Europe happened for Diamond with another actor/singer, David Hasselhoff. He was then the star of Knight Rider, followed by BayWatch, which was the "most watched TV show" in the world, and currently appears on "America's Got Talent," the #1 show in its time slot today. After being turned down by virtually every U.S. record label that David contacted, it was only Diamond's belief in David, the "singer," and in Diamond personally underwriting the $40,000.00 recording session that resulted in three finished master recordings that made David's dream come true...his first recording, achieving platinum status, and released on Silver Blue/CBS Records. This led to David Hasselhoff being voted the #1 recording artist in Germany, selling literally tens of millions of records, and earning a cool $60,000 per performance.
__________________________________________________________

An advanced copy of a song from a forthcoming Broadway Show, La Cage Aux Folles, given to Diamond by good friend Allen Carr, would be another turning point in Diamond's career. In a matter of days upon hearing this song, he was in the studio to produce "I Am What I Am" for recording artist Gloria Gaynor. It became an instant international success on Silver Blue/CBS records, and was also the linchpin for the return of Joel to CBS, except this time with his own wholly owned record label. "I Am What I Am" became, and still is, Gloria's biggest single since her classic of "I Will Survive."

The show "Chess" had just opened to rave reviews in London and Diamond was quick to get his hands on an advance soundtrack, and responded to only one song in the entire show, "One Night In Bangkok." He promptly coordinated a recording session, and rushed successful NY model (and part-time singer) Robey into the studio. Once again, his instinct was correct, and the result was Robey's first top 10 record for Silver Blue/CBS, along with the simultaneous release and top 10 charts in 23 countries.
__________________________________________________________

The Family Film Awards was aired on CBS-TV. This was a concept put together by Joel Diamond and Antonio Gellini with Dick Clark Productions, best known for the their production of the Golden Globe Awards, Academy of Country Music Awards, Daytime Emmy Awards, and the legendary American Bandstand. Joel Diamond served in the capacity of co-producer along with Dick Clark. The Show featured P.G. and G rated films exclusively, and was simulcast into 62 countries. A red carpet and star-studded evening indeed, with its Lifetime Award being presented to (an ailing and last TV appearance for) Bob Hope by Charlton Heston.

Joel Diamond has served as Vice-president and ran Maurice Starr's Boston International Records, distributed and located on the Disney Studio Lot. Starr is best known as the creator, producer, manager, and writer of the industry phenomenon New Kids On The Block and New Edition. Most recently, Diamond and Starr have formed a new production company and record label, called Starr Diamond Records. A new group called Five Young Men, that has been groomed for the past two years is gearing up for major release on Loud Records distributed by BMG. Diamond serves as Executive Producer for the CD.

Although at the time, Joel was not looking for a "young female" to record, Joel was contacted by Kaci's mom, in the hopes that Joel would be interested in her then eleven year-old daughter. Not only was he interested and completely knocked out with her vocal ability, Joel landed Kaci her first single and album deal with Curb/Warner Bros. Kaci's first single entitled "Paradise," produced and co-written by Joel Diamond, debuted top 10 in England, and as of this date, has sold over 2 million units in England alone, and has recently earned for Joel seven gold and platinum , and one triple platinum CD in 2001. Paradise has also achieved gold status in Ireland, Greece, and Italy. Kaci was signed to Silver Blue Productions, Ltd., and through Joel's contact with SFX for personal appearances, she toured with Backstreet Boys, O'Town, etc., and starred on a Pepsi Tour in 2002. Kaci's second Diamond produced single release of "I Think I Love You," also charted top 10 in UK, gold in Ireland, and top 5 in Canada.

David Cassidy's 15 year old daughter, Katie Cassidy, created all the magic in Diamond recorded sessions that originally launched the success of her dad, with her Diamond produced debut "hip-hop" single of "I Think I Love You." Artemis Records ("Who Let The Dogs Out") had the insight to see the potential of lightning striking twice, and Danny Goldberg and Daniel Glass personally signed Katie to their label. Katie has been featured in People Magazine, Parade, and many other local and national papers, as well as Diamond arranging for a two hour special on VH1 for Katie. Katie is now in production on three major films, including starring in the new movie version of "Dallas," and splitting time with her new squeeze, Jesse McCartney, who currently is riding top 10 on the charts.
__________________________________________________________

Joel recently produced his first "comedy album" for the one-of-a-kind, Andrew Dice Clay, and succeeded in orchestrating a duet for Andrew with Snoop Dogg, and pitched and placed his album successfully with EMI/Right Stuff. After Andrew's return engagement to Madison Square Garden (FYI...the only comedian in history to ever sell out the Garden two nights in a row), strategically coinciding with the album release, his record sales went through the roof. Dice and Joel are currently planning a follow up album slated sometime for the early part of 2009.
__________________________________________________________

Legendary Ike Turner had put his trust in Diamond, and before his passing put the final touches on his duet session, along with his wife, Audrey. Joel has also just produced a new version of "Tie A Yellow Ribbon 'Round The Ole Oak Tree" featuring none other than Tony Orlando along with legendary rapper Young MC. Tony has incorporated this new rendition in his show, and receives a standing ovation each and every time.

With recognition always being the compliment of one's work, New York Magazine chose Joel Diamond, along with Jimmy Iovine and Phil Ramone, as one of "New York's Hottest Record Producers." Billboard Magazine described Diamond as, "one of Contemporary Music's Best Record Producers sitting behind the board."