The Paso Robles Digital Film Festival announces the first
LIFETIME ACHIEVEMENT AWARD



LIFETIME ACHIEVEMENT AWARD
For Contribution to the World of Music and Movies, goes to Academy

Award winning editor

JOEL COX

to be presented by Clint Eastwood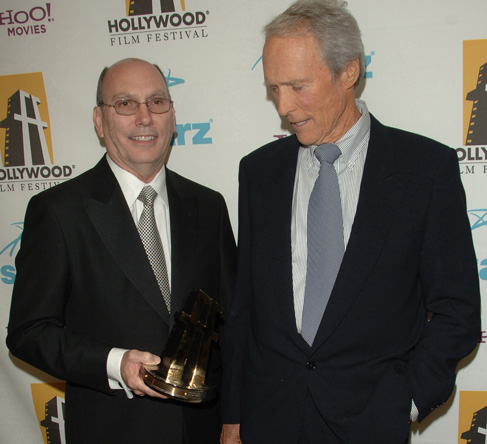 Joel Cox and his long time partner, Clint Eastwood

Joel Cox (Editor) has worked with Clint Eastwood for more than 30 years, on films that

include "Bird," "Eastwood After Hours: Live at Carnegie Hall," Tony Bennett: The

Music

Never Ends," and co-edited Clint Eastwood's "Piano Blues." Joel has been editor on

movies like "Flags of Our Fathers," "Million Dollar Baby," "Mystic River," "Blood Work,"

"Space Cowboys," "True Crime," "Midnight in the Garden of Good and Evil," "Absolute

Power," "The Bridges of Madison County," "A Perfect World," and "Unforgiven," for

which he won an Academy Award for Best Editor in 1992.

Cox has spent his entire career at Warner Bros. starting in 1961, most notably on

Eastwood's films. The relationship began in 1975 when Cox worked as an assistant

editor on "The Outlaw Josey Wales." Since then, he has cut 30 more films that have,

in some combination, either starred, been produced or directed by Clint Eastwood.

"Sudden Impact" was Cox's first film as editor, a title he has held ever since on such

films as "Tightrope," "Pale Rider," "Heartbreak Ridge," "The Dead Pool," "Pink Cadillac,"

"White Hunter, Black Heart," and "The Rookie." Joel has been working in film since

appearing as a baby in Random Harvest (1942). His first film as an assistant editor

was on the 1969 film The Wild Bunch directed by Sam Peckinpah. He just finished

the Eastwood soon to be released "Changeling," and presently working on "Gran

Torino" staring and directed by Eastwood.
More at the Malpaso Music Machine

Academy Awards, USA


| | |
| --- | --- |
| • | Nominated, Oscar |
| | Best Achievement in Editing for Million Dollar Baby (2004) |

| | |
| --- | --- |
| • | Won, Oscar |
| | Best Film Editing for Unforgiven (1992) |

American Cinema Editors, USA


| | |
| --- | --- |
| • | Nominated, Eddie |
| | Best Edited Feature Film - Dramatic for Million Dollar Baby (2004) |

2004

| | |
| --- | --- |
| • | Nominated, Eddie |
| | Best Edited Feature Film - Dramatic for Mystic River (2003) |

1993

| | |
| --- | --- |
| • | Won, Eddie |
| | Best Edited Feature Film for Unforgiven (1992) |

Hollywood Film Festival
2006

| | |
| --- | --- |
| • | Won, Hollywood Film Award |
| | Editor of the Year |

Satellite Awards
2006


| | |
| --- | --- |
| • | Nominated, Satellite Award |
| | Best Film Editing for Flags of Our Fathers (2006) |

2004


| | |
| --- | --- |
| • | Nominated, Golden Satellite Award |
| | Best Film Editing for Mystic River (2003) |

Changeling just released October 08
Letters from Iwo Jima (2006)
Flags of Our Fathers (2006)
Budd Boetticher: A Man Can Do That (2005) (TV)
Million Dollar Baby (2004)
Mystic River (2003)
Blood Work (2002)
Space Cowboys (2000)
True Crime (1999)
Midnight in the Garden of Good and Evil (1997)
Absolute Power (1997)
Eastwood After Hours: Live at Carnegie Hall (1997) (TV)
The Stars Fell on Henrietta (1995)
The Bridges of Madison County (1995)
A Perfect World (1993)
Unforgiven (1992)
The Rookie (1990)
White Hunter Black Heart (1990)
Pink Cadillac (1989)
Bird (1988)
Heartbreak Ridge (1986)
Ratboy (1986)
Pale Rider (1985)
Tightrope (1984)
Sudden Impact (1983)
Honkytonk Man (1982)
Death Valley (1982) (as Joel E. Cox)
Bronco Billy (1980)
Every Which Way But Loose (1978)
The Gauntlet (1977)
The Enforcer (1976/I)
Farewell, My Lovely (1975)


The Dead Pool (1988) (supervising editor)
... aka Dirty Harry in The Dead Pool (USA: poster title)
Escape from Alcatraz (1979) (assistant editor)
March or Die (1977) (assistant editor)
The Outlaw Josey Wales (1976) (assistant editor)
Rafferty and the Gold Dust Twins (1975) (assistant editor)
... aka Rafferty and the Highway Hustlers (USA: reissue title)
The Terminal Man (1974) (assistant editor) (uncredited)
The All-American Boy (1973) (assistant editor)
Cleopatra Jones (1973) (assistant editor)
The Rain People (1969) (assistant editor)
The Wild Bunch (1969) (assistant editor) (uncredited)

The Learning Tree (1969) (sound assistant)

"HBO First Look" .... Himself (1 episode, 2006)
- A Moment in Time... Flags of Our Fathers (2006) TV episode .... Himself
Ben-Hur: The Epic That Changed Cinema (2005) (V) .... Himself
All on Accounta Pullin' a Trigger (2002) (V) .... Himself
"American Masters" .... Himself - Film Editor (1 episode, 2000)
- Clint Eastwood: Out of the Shadows (2000) TV episode .... Himself - Film Edito
Hell Hath No Fury (1999) (V) .... Himself - Editor
... aka Hell Hath No Fury: The Making of 'The Outlaw Josey Wales' (USA: DVD box title)
The 65th Annual Academy Awards (1993) (TV) .... Himself - Winner: Best Film Editing
Clint Eastwood: The Man from Malpaso (1993) (TV) .... Himself
Eastwood & Co.: Making 'Unforgiven' (1992) (TV) .... Himself