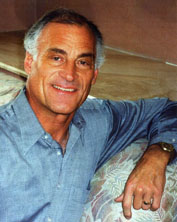 Dave Cole
Armed with a Master of Arts in Public Affairs and a Bachelor of Arts in Political Science, Central Coast denizen Dave Cole spent a quarter of a century in government and politics before he found his way into the realm of independent film. On the way there, he spent some time developing his own system of small cap stock trading, landing on the cover of the September 2000 issue of Your Money magazine in the process.
In the late 1990s Dave met legendary TV and film personality Gary Conway, who eventually brought Dave into his filmmaking world and introduced him to other filmmakers. Given an opportunity to completely change direction, Dave spent the next several years working with Gary on several initiatives and immersing himself in the rapidly evolving business of independent filmmaking.
Now working under the professional moniker "David John Cole", Dave's acting credits include a wide variety of feature film and TV productions, most notably his portrayal of General Zachary Taylor in The History Channel's 2006 film The Mexican-American War. During that time Dave has branched out into production, distribution, marketing and film festival strategizing for independent films, supplemented by his recent three-year term as Vice-President of the San Luis Obispo International Film Festival.
After joining the production of the feature film Neptune Cowboy as a supporting actor, Dave was asked to join the Energy Alliance Entertainment production team to promote the film and assist with its marketing and distribution efforts. Long Beach-based EAE recently announced that the sequel to Neptune Cowboy is now in development, and Dave continues to work as part of the EAE management team to get that film into production in 2009.
Dave has also continued to expand his film festival involvement by serving as an advisor to film festivals and working with indie filmmakers to develop their film festival strategies and plans. For the past few years he has also been promoting several film-related initiatives in the Great Lakes region, including an innovative new program in which a university in Wisconsin organizes, conducts and summarizes test screenings of feature films for indie filmmakers
Dave's current projects include helping to promote The Center for the Study of Film and History, working with a southern California film festival as it prepares its 2009 festival program, and arranging the Central Coast premiere of a new exciting surfing film by two up and coming Australian surfer/filmmakers. And he continues to actively pursue acting roles in TV and film, his most ardent passion in "the 'biz."