Bright Lights and Cowboy Cool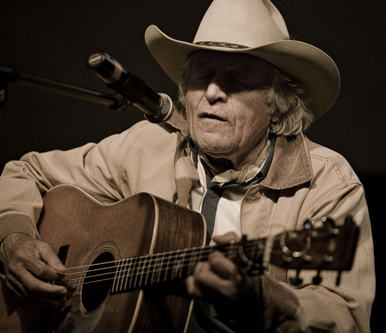 Paso Robles Digital Film Festival debuts with a diverse menu.
Posted November 20, 2008 12:00 AM
Joel Cox will receive the festival's highest honor; Clint Eastwood isn't scheduled to speak, but is expected to attend.
There will be no celebrities whisked down a red carpet through a solar system of flashing paparazzi at the first annual Paso Robles Digital Film Festival. There will be no walls of personal assistants and handlers forming buffer zones around VIPs. There will be no Hollywood star or starlet receiving the festival's highest honors in an obvious bid to receive publicity.
Benford Standley, the creator, director and producer of the five-day event, wants it to be different from Cannes, Sundance or Telluride– and not just because of its location (coincidentally, it's the town where James Dean took his final road trip).
The festival's theme is "Music in Film" and it will include the screening of the greatest music documentaries of all time, from D.A. Pennebaker's intimate look at Bob Dylan in 1967's Don't Look Back, to Martin Scorsese's film of The Band's final show, The Last Waltz, and newer fare like You're Gonna Miss Me, the 2005 movie on twisted Texan musician Roky Erickson.
One of the things that separates the PRDFF from other movie gatherings is that a handful of the principal forces behind a handful of the films will be in attendance and easily approachable, up close and in person. Attendees, including folk icon Ramblin' Jack Elliott, the subject of the 2000 documentary The Ballad of Ramblin' Jack, and Bruce Ricker, the director of 2007's Tony Bennett: The Music Never Ends, will participate in question and answer sessions.
"All these filmmakers are going to stay," Standley says in a drawl that sprawls like the Texas plains. "They are going to hang out. They are going to be doing Q & A's."
In addition to movie screenings, there will be a handful of performances by musicians including shows by The Bacon Brothers, a band featuring actor Kevin Bacon and his brothers Michael and Elliott, and Kyle Eastwood, a jazz musician who has contributed music to his father Clint's film, including Mystic River and Million Dollar Baby.
Standley says he is awarding the festival's biggest honor, which has the longwinded title of the Paderewski Lifetime Achievement Award for Contribution to the World of Music and Movies, to someone whose role is often overlooked in the industry: an editor. In this case, Academy Award winner Joel Cox, who also worked with Eastwood on Mystic River and Bird, a biopic on legendary jazz musician Charlie Parker.
"In a way, that's like stepping out of the box a little bit," Standley says. "It was just shining a light on another area of filmmaking that most people don't know about."
Even though most folks might not know Cox's name, Standley says the editor is more than worthy of the honor that will be bestowed on him.
But the festival strays as far from its "Music in Film" theme as a jam session. Saturday's offerings are packaged as "Make My Saturday," a tribute to the "musical and cinematic genius of Clint Eastwood." It includes Eastwood's music based films Honkytonk Man and The Blues: Piano Blues alongside the decidedly non-music-based, World War II pictures Flags of Our Fathers and Letters From Iwo Jima. In addition, the day features a panel discussion about Eastwood's Malpaso Productions. "If you go and watch The Changeling and watch the credits roll, they are all going to be here," Standley says.
There are several other portions of the freewheeling festival, including the premiere of the new bull-riding documentary This Is Not a Rodeo! Friday evening at the Paso Robles Inn Ballroom and the 2004 film Sideways Saturday evening in the Franklin Hot Springs, that are located in the countryside out of town. In addition, a 3-D Indie Film Expo was just announced for Monday.
The festival will also screen 30 films submitted to the movie gathering, whittled down by the event's judge from around 500 submissions from 25 countries to just 30 films. One of the most interesting is a full-length documentary on Warner Brothers Entertainment done by Cass Warner, the granddaughter of the company's founders. "Only a Warner could have got this footage," Standley says. (Eastwood's longtime Warner publicist, Joe Hyams, will also be speaking at one of the panels.)
For Standley, the Paso Robles Digital Film Festival's main focus on both film and music is a natural fit. The former Texas resident has promoted shows for Texan songwriters Jerry Jeff Walker, Ray Wylie Hubbard and Joe Ely. "I paid Robert Earl Keen his first $50 for doing a gig," Standley says.
Recently, Standley got into making his own documentaries about musicians. He says he has a film in the can on country legend Jimmie Rodgers that includes interviews with Les Paul and Kris Kristofferson. Also, Standley has worked with Merle Haggard on a documentary that has currently been shelved. "I'm an emerging filmmaker myself," he says.
The Paso Robles Digital Film Festival takes place all over Paso Robles this Friday through Tuesday, Nov. 21-Nov. 25. Call (805) 461-4911 or visit www.pasoroblesfilmfestival.com for a complete list of events and prices.
2008 © Monterey County Weekly