DVD PRODUCTION TEAM


and
Banner Caswell Productions
Chuck Banner and Ben Caswell began their association 15 years ago while
working at Bob Banner Associates. BBA is the production company behind such
seminal TV series as Candid Camera, The Carol Burnett Show, Solid Gold, Star
Search, and Showtime at the Apollo, among others. Ben and Chuck worked
together on BBA's Real Kids, Real Adventures for Discovery Kids. Ben wrote
a third of the episodes, including the pilot. Chuck was post production
supervisor, including graphic and music design as well as editorial and
quality control. In its third and final season, the series was nominated
for a 2001 Emmy for Best Series for Children.
Chuck and Ben formed BannerCaswell Productions in the summer of 2005
as an offshoot of Bob Banner Associates. In 2006, BCP sold its inaugural
television series: "What Happens Next, a 26-episode medical series. Shortly
thereafter, BCP sold another HD series to Veria: a 26-episode cooking show
called Chasing The Yum, which stars Chef Jet Tila.
BCP began a new initiative in the area of out-of-home networks (often called
"Digital Signage") in the summer of 2007. These private networks cater to
very specific audiences, and advertisers are starting to recognize the
advantages of an ultra-niche media buy. Providing culturally relevant
programming is BCP's core competency --- whether it's to the Discovery
Channel, Animal Planet or to consumers in a doctor's office or an airport
bookstore.

MEDICAL COMMUNITIES:

Watching a private network available only in waiting rooms at doctor's
offices and hospitals is a perfect venue for BCP's brand of targeted
entertainment because of the "dwell time" involved in most visits (34minutes).
Also, the patient mindset is attractive to certain advertisers
looking to reach a very specific audience. The eHealth Network is
generating significant momentum at the outset of a national rollout. The
pilot program in New York is reaching close to 2 million people a month.
The goal is for eHealth to become the preeminent network in the medical
space.
In the tradition of legendary TV producer Bob Banner, BannerCaswell
Productions is committed to producing classy and classic programming that
entertains, inspires and informs. Simply, BCP creates connection.
note: I have known Chuck Banner for a few decades now, and have worked
with his dad Bob Banner and brother Baird Banner. Chuck was a Director
with me on the First American In The Arts world wide webcast with broadcast
partners Yahoo.com in 1999 and 2000 from the Beverly Hills Hotel in Beverly
Hills California...a historic 4 hours webcast.
SEE MORE ON BUFFALO BENFORD PRODUCTIONS WEBCASTING
Buffalo Benford Productions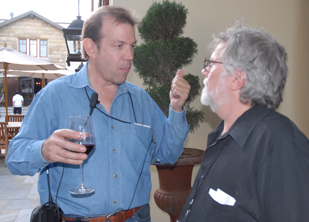 Chuck Banner and Benford Standley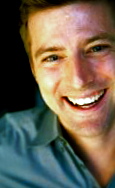 Ben Caswell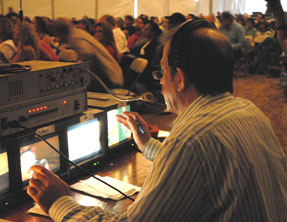 Chuck directing the shoot of the Bacon
Brothers concert during PDFF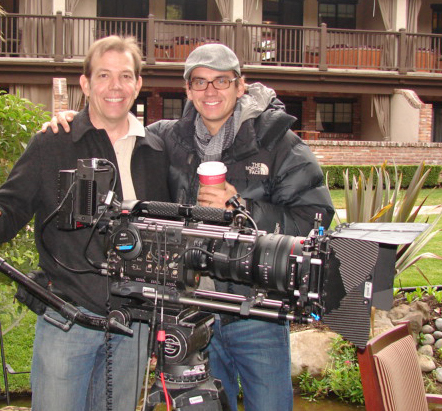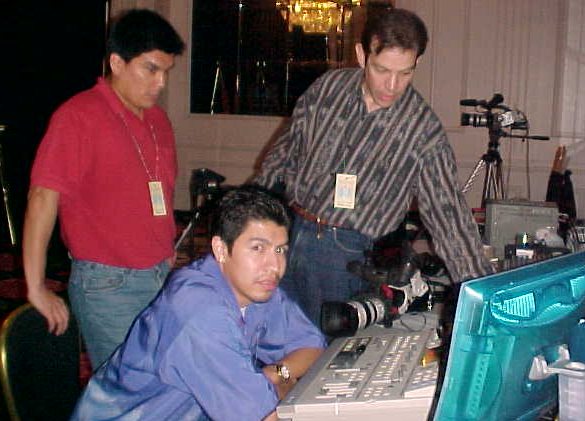 Roscoe Pond on left center is Eagle Young
and Chuck Banner on right during FAITA
Webcast Produced by Buffalo Benford with
Chuck as Director and out on the edge with
us on a historic 4 hour webcast in association
with broadcast partners Yahoo.com