The Yahoo Connected TV platform is working with tech companies and
a slew of TV networks ABC, CBS, HSN, and Showtime -- to entice viewers.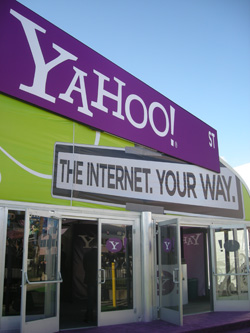 Yahoo is trying to lure viewers from cable connections -- striking deals with Ford Motor, Mattel, and Microsoft in
an effort to start up a number of new "enhanced" TV features.
Connected TV services will play a large role in making TVs more engaging, said Ronald Jacoby, who works with the Yahoo TV service. Yahoo is promoting the second generation of the service at CES this year, offering on-screen elements that deliver more context on a program or ad. Those interactive elements can provide trackable data for advertisers, he said.

Visit our new Virtual
Digital Channel