Justin Bieber
,
50 Cent
,
Nicole "Snooki" Polizzi
,
Jillian Michaels
and
Elisha Dushku
will be among the celebrities that will make appearances at the 2012 International CES that runs Jan. 10-13 in Las Vegas, the annual consumer technology trade show...
NPD estimates that electronics sales for the five weeks up to Dec. 24 reached $9.5 billion, excluding phones. Meanwhile, analysts say China and India are among the developing countries expected to drive consumer-electronics sales to more than $1 trillion in 2012.
CES 2012: Spike TV's Live Coverage Adds Zachary Levi,
Felicia Day, and 50 Cent (Video)
As the official broadcaster for CES 2012, the largest consumer technology tradeshow in the world, Spike TV is airing CES All Access Live from the event in Las Vegas starting Tuesday at 1 p.m. ET/ 10 a.m. PT.
On Monday, the cable channel announced its lineup of interviews including Chuck's Zachary Levi, The Guild's Felicia Day, rappers 50 Cent andLudacris, and Public Enemy's Hank Shocklee(who, by the way, was also the sound designer for the broadcast), as well as executives from Yahoo!, Nintendo, Google TV, Hulu, Spotify, Microsoft, Sony, XboxLive, Netflix, CEA and more.
| | | | |
| --- | --- | --- | --- |
| | Eliza Dushku | "The entertainment world of course, has to keep up with the emerging tech, and to bridge those two is just so important, and sometimes more important than some might think," said Dushku."It's been amazing walking around the floor and just seeing all of the ways that the tech companies are paying attention to the fact that people more and more want to create their own content." Eliza Dushku | |
Blu-ray Sales Up 20 Percent in
2011; Brick-and-Mortar Rental
Activity Down 28.8 Percent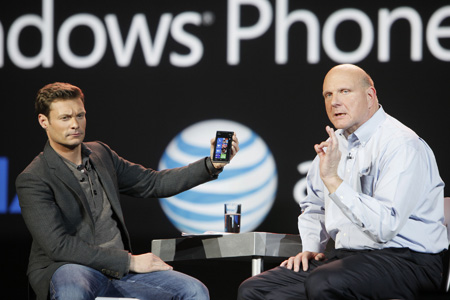 Ryan Seacrest and Steve Ballmer, CEO of Microsoft
LAS VEGAS—Microsoft Corp. is getting a face lift, and it's called Metro.
Steve Ballmer, the tech behemoth's chief executive, used his final keynote
speech at the Consumer Electronics show to describe how the company is
expanding the information-heavy Metro interface—which started with its
Windows Phone 7 software and has spread to its Xbox gaming console and
next PC operating system.