Amber Smith

Natasha Timpani

Alicia Rose

The Innocent

powerful movie that deals with the important

subject of "bullying" and the Internet.

(photo credit Richard Bastian)

Dara Davey

Bob Olin

Alexander Fraser
| | | |
| --- | --- | --- |
| Rex Pickett | Artist and Festival Supporter Sandy Dent & David | Tanya Bershadsky & Lauren |

Benford Standley and Elise Glascock's, who's youtube

film was a Special Selection in the Kids age. She is 8.

Benford introduces Dr. Suzanne Bartlett and Elise.

Dr. Bartlett present information on her book on

Autism inspired by her son John, who is autistic.
Festival Producer, Benford Standley, is deeply dedicated to shedding light in the darkness of the
millions of homeless, runaway and missing children, the abused, the autistic, and all children and
youth falling between the cracks in our society, and sadly, in historic numbers, here in the United
States of America...SEE THE PAST 4 YEARS OF SPECIAL DAYS OF THE FESTIVAL...
THE STATE AND FATE OF CHILDREN FILMS AND FORUMS

THE

"DIGITAL" IN

PASO

DIGITAL FILM & WINE FESTIVAL

Visit our Digital Media Channel

and the why DIGITAL in our festival...duh!

google "digital film festival" see who's 1st

"The Internet continues to grow separate

from the economies downturn..."

Google CEO Eric Schmidt

Digital

New Media

MultiPlatform

Networked-

Individualism

Integrated

MediaScape

Internetworks

WWW

Augmented Reality Festival

VOD

Shorts

Vignettes

Social Networks

Independent

Sharing

Internet

Links

thePDFF.com Goes beyond the cutting edge, we want to

be the digital sword, and cut filmmakers & filmgoers a trail to

the future and after, with our connections to information and

technology, visit the links to the left to see the paradigm

shift into the digital age of new medias on multi-Platforms.

| | |
| --- | --- |
| Film as Art Panel with Gary Conway | |
The evolving Digital Worlds are part of the evolution that we're seeing now in the entire entertainment business. New Media, Social Networking, and the multi-platform delivery of music, film, tv and vod

on the Internet, mobile is the 3rd screen, user generated content, and other innovations that are just

now being released, will be part of the of this Virtual Wild West Digital Film Fest...the future is now,

and we'll take you after the future to the new media frontiers of entertainment...
photos by: Richard Bastian, Official Film Festival Photographer
Ramblin Jack Elliott & Bernie Taupin

| | |
| --- | --- |
| Johnny Rivers | Jack Tempchin |

| | |
| --- | --- |
| Kathleen Quinlan | Ken Kragen |

Festival producer Standley, Clint Eastwood and Joel Cox

EASTWOOD GIVES LIFETIME ACHIEVEMENT AWARD

TO JOEL COX DURING THE PASO DIGITAL FILM FEST

Clint and Kyle Eastwood

| | |
| --- | --- |
| Luke Perry | Gary Busey |

| | |
| --- | --- |
| Max Gail | Gary Conway |

After only three years...thePDFF.com is proud to announce our daily traffic
on the festival website is double and triple the traffic on many established
Film Festival Websites...We exceed Festivals like the Dallas, Phoenix, Chicago,
Malibu, San Luis Obispo, Monterey, Carmel, San Diego, Indie Fest, Atlanta,
LA Reel, Nashville, Santa Barbara, and other major Film Festivals.

Buffalo Benford Productions

and the




and the why DIGITAL in our festival...duh!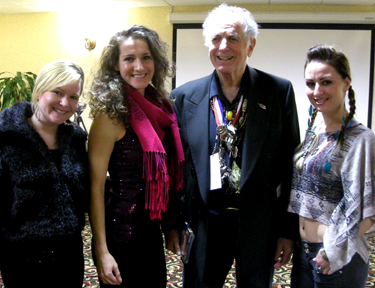 Clint Eastwood

Joel Cox

Eastwood Editor 30 years

Bruce Ricker

Eastwood Associate

Blu Murray

Eastwood Associate

Chris Felver

Eastwood Associate

Judy Hoyt

Eastwood Associate

Allen Murray

Eastwood Associate

Gary Roach

Eastwood Associate

Kyle Eastwood Band

Kevin Bacon

Michael Bacon

Nigel Sinclair

Kathleen Quinlan

Mick Jackson

Gary Busey

Ramblin' Jack Elliott

Bernie Taupin

Luke Perry

Robert Carradine

David Amram

Dawn Engle

Buffalo Benford

Paula Nelson

Joe Estevez

Francisco Quinn

Kacey Musgrave

SEE WHO WAS AT FIRST THREE FESTIVALS

Johnny Rivers

Bela Lugosi, Jr.

David Von Roehm

Ken Kragen

Botso Korisheli

Joel Diamond

Jack Tempchin

Norm Stephens

Gary Conway

Max Gail

Chloe Domange

Oscar Arslanian

Dan Jones

Len Dell'Amico

Jake Lyall

Ross Turner

Chris Montez

Ann Dandridge

Cass Warner

Kenny Lee Lewis

Louie Ortega

Luciano Holguin

Maggie Warwick

Alton Warwick

Susan Morgan Cooper

Richard Bellis

Les Blank

George Wilkins

Dave Somerville

John Andrew Parks

Steve Mason

Rex Pickett

Tony James

In the early days there were the troubadours and the singing minstrels, then came the medicine shows to the towns
of America...then the tent Shows, rag operas, tent reps barnstormed, and took entertainment on the road. Buffalo
Bill Cody's Wild West Show begins to roll, and we hear the music "there's no business like show business", then
vaudeville, Broadway and the flickers...In 1913, Cecil B. DeMille rents a barn in Hollywood near the corner of
Hollywood and Vine, and makes the movie "The Squaw Man"...the wireless, the talking machine, and on to TV,
and Video, Buddy Holly in a plane, some music dies, and Clint Eastwood creates Malpaso and Willie Nelson load
up and are..."On The Road Again"...while the Internet streams a Wild West Digital Film Festival to the world,
from an ancient hot springs town that Jessie James' uncle built here in cowboy wine country...

Enlarge thy tents, Strengthen thy stakes. Isaiah 54:2