"I'm blessed to be able to create the unique, memorable experiences for guests from VIP celebrity parties to private event. To live on the central coast of California, travel to exciting places and be in such demand for my original style to the magical arts and entertainment is a dream come true!... To be able to combine my abilities with comedy, mentalism, observation and more and create moments that completely blow people away is so rewarding... Changing people's perception about 'magic', making a huge difference to an event and bringing people together makes it all worth it!"

Rich was adopted at age 12 and learned to read at a very late age leaving him to his own resources as a young child. Using his highly developed sense of intuition, "off the charts" observational powers and ability to think on his toes, Rich has developed a new style and approach to the arts of magic, mentalism and comedy. Combining his survival instincts as a kid and his wittiness learned from his wonderful new family as an adult, Rich's style and effects will amaze, confuse, defy logic and create laughter! Rich is self taught and has focused his attention on the guests at a party... not the magic! It just happens that the magic is insane!
Rich's humorous and original magic has enchanted audiences all over the world. Rich combines magic, hypnosis and mentalism to create a style of magic that is highly intriguing and sets him apart from the rest as a world-class magician. His slogan is "Where Magic & Mentalism Join Hands." He performs for high profile events, award shows, magic clubs, theatres and his hands are used as extras in movies for cheats, gambling, hustles, pick pockets and various manipulations
Rich Ferguson is a
magician
, entertainer, and poker
columnist
. He is the producer and host of the

Official Poker
Chip Tricks
and Card Handling DVD Series. He is the current spokesman for a
Dream for Kids
, a local
San Luis Obispo, California
charity.
He is also the creator of the effect "Tagged." and the upcoming effect "Serial Biller."

Rich's style of magic is mostly dynamic, meaning he doesn't have a set

of tricks that he uses, which really separates him from other magicians.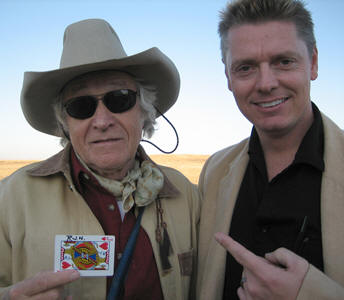 Rich and Ramblin' Jack
at PDFF # 1