Lauren Francesca is a native New Yorker. She was bred to be an entertainer at a young age amongst a family of performers. Growing up backstage, in the audience of Broadway Shows, on the set of many commercials and at
her parents dance studio and rehearsal space she realized there was no business like show business. As a
toddler Lauren ran around the house with Madonna necklaces and a microphone performing at family functions
for all her relatives.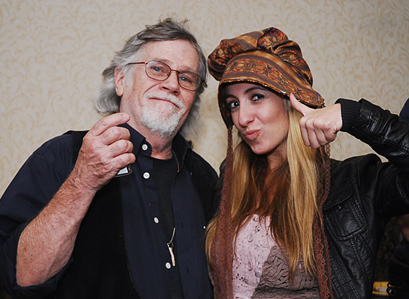 Festival producer Benford Standley with Lauren Francesca
(photo credit Richard Bastian)

Lauren and David Amram

Lauren dancing country at the Saloon

Tanya Bershadsky & Lauren at Pine Street Saloon

Kenny Lee Lewis, lead guitar for Steve Miller

Band for past 28 years, standing with Lauren


Lauren's Father Fred Siretta was a Broadway actor, dancer and choreographer who worked with directors such as Elia Kazan. Her mother Jo Ann Cifala graduated from the Washington Ballet and danced in Broadway shows such as "Very Good Eddie" and "Whoopie".
| | |
| --- | --- |
| | Chris Felver is interviewing Lauren at the Digital Festival... |
2009 Lauren did a video parody with Barely Political, newly created channel, "The Key of Awesome". It was their first parody of a celebrity. Lauren engrossed her self and became Lady Gaga, the video was huge success and received over 25 million views on youtube. The Key of Awesome than started parodying other celebrities in more videos. The next big hit was the "Jersey Shore" parody which aired on MTV. She then went on to parody Heidi Montag, and create the character of Tron girl. In 2010 Lauren's Lady Gaga Telephone parody was a huge success on Youtube and jump started her career. The Lady Gaga Parody was deemed by entertainment weekly to be 2010's best web parody. The video was featured on Perez and was also Gawkers best Lady Gaga Parody. Lauren has over 200 million views online and has appeared in over 100 videos for Barely Political. In the summer of 2010 Jace Alexander who directed Law and Order and Rescue Me, saw Lauren's parody and offered her a role in his pilot for the FX Network. Lauren had no official representation until after the pilot finished, so Jace had to send her the offer letter through Facebook. She was later offered the role of Jessica in the movie, "The One" dir. Caytha Jentis, as well as a role in "Uncle Melvins Apartment" dir Criag Weintraub. In Dec 2010, Lauren was the first to get killed in an upcoming horror movie "Cut" Starring Tony Todd, Michael Berryman, Kane Hodder.

Lauren is on Skype in the Festival digital studio with Patrice Poujol

who is in Bordeaux, France via Skype to our festival...

Lauren is currently, working on the Launch of her youtube channel with Jeffrey Gurian, (currently producing a movie with Chris Rock). Starring in her first official video is, Ray Ellin (LateNet with Ray Ellin), Walter Masterson (LIE) and Derek Denangelis (Fast Lane Daily). The video will premiere at the world famous, NY Comic Strip, that launched the careers of Eddie Murphy, Chris Rock, Jerry Seinfeld, Ray Ramano etc. She is producing all of her own content for her channel. In addition she is developing a feature Film written by Karen Torres (daughter of Edwin Torres, writer of Carlito's Way). The film currently has Herman Chavez, and Shiek Mahmud-Bey attached to it. She is also trying to raise money for a water tower in Tanzania. http://mashakafoundation.org/ She believes strongly that every cent counts. She is currently a charity ambassador for www.onecent.us and believes that if we all come together we can make a difference.
The Paso Digital Film Fest is proud

make Lauren Francesca our

OFFICIAL SELECTION

FOR

ONLINE DIGITAL MEDIA PLATFORM

With 48 hours of video uploaded every minute on

youtube, we honor Lauren for her over 1/2 billion

views on her youtube platform channel...

ONLINE DIGITAL MEDIA PLATFORM