John Andrew Parks

"John Andrew Parks may be the most prolific songwriter I've heard in

20 years! Seldom in my life have I met anyone with such imagination

and vision, and...this guy can really sing!" Kenny Rogers on NBC

"What a gift...what a voice...and I sure do like his songs."

Willie Nelson

"A visionary songwriter of cinematic proportions."

Holly Gleason, Music Row

John Andrew Parks is a Songwriter's Songwriter, Poet and a

Storyteller, with a voice that has a three-octave range, not only

beautiful, it's powerful and highly stylized. Parks was recently

the headline act for CCTV entertainment special that was

broadcast to over 600 million people in China...

John Andrew Parks is the seven-pound star sapphire you find hidden among the boulders in your backyard. The lost Picasso someone's trying to unload at a garage sale. The rare coin jingling among the change in your pocket.

Parks is a Songwriter's Songwriter, a Poet, and a Storyteller. Park's melodic narratives run from windblown prairies and old jalopies to shooting stars across the cosmic canvas. As Kenny Rogers once said on an NBC Television Special, "John Andrew Parks is one of the greatest singer/songwriters I've heard in 20 years, and whether or not you like this song you have never heard anything like it before!"

Equally important is his voice with it's three-octave range. Not only is it beautiful, it's powerful and highly stylized. His act is filled with humor, pathos and the rhythm of a steam locomotive. Parks traverses from a Texas-style bluster, bigger than life, to an intimate whisper that evokes some third, unseen entity that seems to glue the audience together into one single universal spirit. A music critic from The Music Connection, attending one of his concerts cited, "The breath of the audience came to a halt, and that's when I heard my own heart beating". The experience, I think you'll find, is absolutely unique.

Because of his "bona fide originality", Parks was signed by the illustrious Bruce Lundvall at Capitol Records to record & release his first self-titled album. Produced by Parks, John Boylan and Jerry Crutchfield to much critical acclaim, it included his original full-length version of "Planet Texas", still a staple at "Texas Rebel Radio".

In December 2006, Parks was the headline act for a CCTV entertainment special that was broadcast to over 600 million people in China. The special brought attention to the HIV/AIDS situation in China. John Andrew wrote and performed "My Windows World" specifically for the program, which tells the emotionally touching story of a orphan child with AIDS looking out his bedroom window, longing to be with the other children he sees playing outside.

The music community continues to herald Parks' unique sound and style. Jim Fogelsong, a Lifetime Achievement Grammy winner, commented: "John Andrew Parks' influence will be felt for a decade to come."


John Andrew Parks was born in Dallas, Texas. He picked up his first guitar when he was three and started performing in first grade. He formed his first band in Jr. High School and was playing the local nightclub circuit by the time he was thirteen. Early on, he developed an avid interest in songwriting, and had his first song recorded by a local band as a sophomore in high school. At seventeen, after a tour in Michigan and Indiana, he moved to Los Angeles; and at eighteen, signed his first recording contract.

In his early recordings, he worked with several mega-hit producers such as (Ventures' producer) Joe Saraceno, Jackie Mills and Ted Templeman. This in turn inspired him to hit the road and anchor his songs in the deep roots of real-life experience. This chapter was a solitary one. But, it also sparked the embers of a desire to work with other great artists, which led him to New York City. Here, amid the canyons of concrete, he designed, and operated 'The Ranch' recording studio in Manhattan. The Ranch became a haven for such acts as The Eurhythmics, Plasmatics, Blondie, KT Oslen, and a host of other greats. All the while, in the shadow of the stars, he worked on his songs.

During his tenure at The Ranch he learned the art of record production, and worked with many of the legends in the New York Music community such as Marianne Faithful, Dick Wagner (of Alice Cooper fame), and Mike Appel (the renowned manager for Bruce Springsteen). He and Appel produced the groundbreaking record "Planet Texas", written by John Andrew and later on recorded as a single by Kenny Rogers for which John Andrew was awarded a gold record. "Planet Texas" coined a term that would soon be borrowed by the highly successful "Planet Hollywood" restaurant chain. The Planet Texas

After recording with Appel, John Andrew was signed by the illustrious Bruce Lundvall at Capitol Records. Capitol released his first self-titled album, produced by John Andrew, John Boylan and Jerry Crutchfield, to much critical acclaim. It included his original full-length version of "Planet Texas", still a staple at "Texas Rebel Radio". The music community continues to herald his unique sound and style. Jim Fogelsong, a Lifetime Achievement Grammy winner, commented: "John Andrew Parks' influence will be felt for decades to come."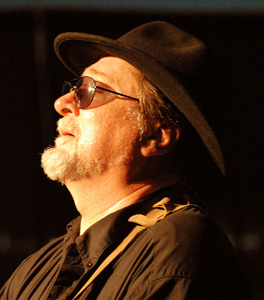 Contact Mike Lane