Nearly 178 million U.S. Internet users watched 33.2 billion online videos during December 2009, according to the latest data from

comScore Vedio Metrix

.

This means Americans watched an average of 187 videos per viewer during the month.

Here are some other related stats from comScore's announcement:
86.5 percent of the total U.S. Internet audience viewed online video in December.
134.4 million viewers watched more than 13 billion videos on

YouTube

--97.1 videos per viewer.
44.9 million viewers watched 423.3 million videos on

MySpace

Sites -- 9.4 videos per viewer.
The average

Hulu

viewer watched 22.9 videos, totaling 2.2 hours of videos per viewer.
The duration of the average online video was 4.1 minutes.

| | | |
| --- | --- | --- |
| | Gary Shapiro on his first 3 D camera interview | |

Today, our industry estimates there are about 4.6 billion mobile subscriptions among the planet's 6.8 billion people. We're nearing the day when we'll be able to declare the entire world connected. Of course, the rapid spread of this technology in
the developing world has occurred in a fundamentally different way, compared with the West. Modern western telecommunications began with the telegraph and then telephone lines strung across the continent. Access to the Web
spread first though PCs over phone lines, then via broadband cable, and now wirelessly.
But across the rest of the world, where there is less of this legacy infrastructure, many people are going wireless first.
Think about it: There's an entire generation of people growing up today who are connected to the rest of the world solely
though their mobile device. for the majority of the world's people, their first and only access to the Internet will be through
a mobile device – not a PC. And this access is spreading very, very fast. In China, every month more than 7 million people
gain access to the Internet for the first time, and mostly on mobile devices. And that's an important point.
While entry phones play a critical role in these markets, the high-growth economies of China and India in particular are
seeing rapid growth in sales of smartphones as well. 4.6 billion mobile phone subscriptions in the world today, there are
only about 1.6 billion bank accounts. Which means much of the world still has very limited access to basic financial
services. So there's tremendous potential in mobile banking, for literally billions of people.
Olli-Pekka Kallasvuo CEO of Nokia

Paul Jacobs CEO of Qualcomm, Inc. says...

Smartphone shipments are expected to exceed all computer shipments in 2011.

But I'll tell you, the most important thing, the cell phone has become the most widespread platform human beings have ever created. The cell phone market

is bigger than the market for radios, TVs and the internet and fixed telephones, obviously, so this is the biggest platform in the history of mankind. Pretty

amazing.

So let's change, let's talk about the internet revolution. We have this vision that

the wireless internet would fundamentally change the world and it was actually

going to have a more profound impact on the world than the wired internet.

And I think that's what's happening right now.
There's all these app developers out there, they're bringing tremendous creativity to mobile devices. End result is a better
internet experience. That's a big change from the early days of wireless, when there were only really a few vertically
integrated companies and those companies were just – they were the ones who defined what went into a phone. It was
kind of a closed system. And as a result then, there really were only a few people who could innovate. So what's changed?
I mean why is there so much interest now in the mobile internet? It's because it's about entirely new possibilities. It's a
change. It's the internet that you take with you and it's becoming more and more integrated into your life wherever you are.
It's changing the internet from a sit-down experience to a carry-along experience. And that's something that's making it
real-time, location aware, changing it into something that has a lot of context to it and makes it very personalized. So you personalize the things that you choose to access or the things or people that you allow to have information and access to you.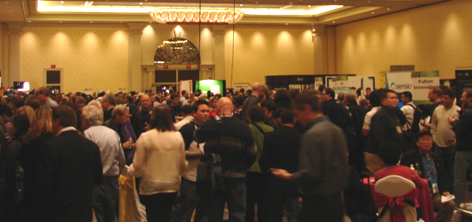 Mobile-phone companies last week introduced a huge array of new devices and technologies -- as well as a new "superphone" buzzword that one analyst said accurately described the industry's new boom. "We're about to see an explosion in mobile-phone innovation. The next 10 years are going to be really exciting," said Will Stofega, an IDC analyst.
Light Blue Optics displayed a prototype of its Light Touch device, showing off a futuristic multitouch "screen" that is actually a holographic projection equipped with infrared sensors. The Wi-Fi-compatible device can be used to connect with social-networking sites, and comes with 2 gigabytes of storage for photos and other files.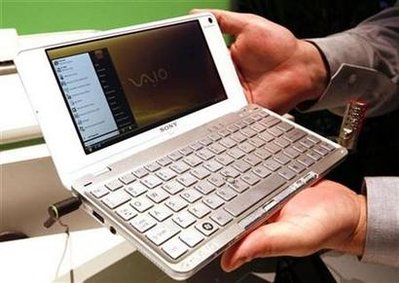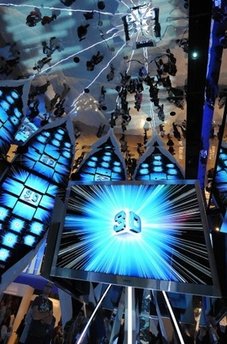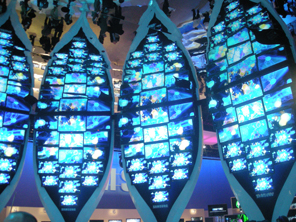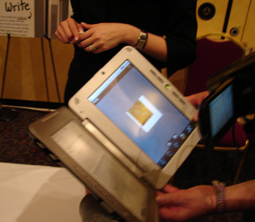 \