Davanh, Festival Hostess and Botso

Kacey Musgrave

Festival Troubadour

Jack Tempchin

Festival Troubadour

| | |
| --- | --- |
| Chris Montez | Vicki, Gary, and Buffalo |

| | | |
| --- | --- | --- |
| Gary, Maggie, Sonny Curtis | Phil Jones and Terry Reid | Kathleen Quinlan |

| | | |
| --- | --- | --- |
| John Andrew Parks and Robert Carradine | Joel Diamond and Davanh | Keith Potger |

Buffalo Wild West Carnie and Luke Perry

John Growney, lady friend of Luke Perry and David Wittkower,

the Producer/Dir. of Challenge of Champions standing next to

Luke Perry, who played Lane Frost in the movie 8 Seconds and

was there to support David and his documentary screening...

| | | |
| --- | --- | --- |
| Gary shakes a leg with Vicki | Arthur and Vicki | Robert Carradine |

Keith Potger and Chris Madson at Via Vega Winery

screening of Challenge of Champions

Ken Kragen and Phillip Hain,

of Autism Speaks

Chris Jones, principle at

Paso Roble High School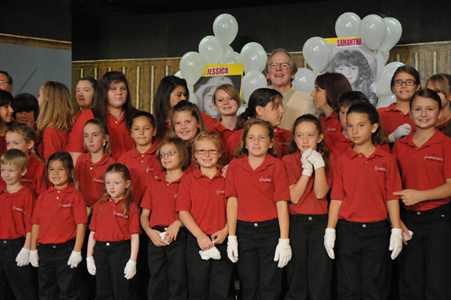 Singing Hands with Ken Kragen, a magic moment for a great man...

some things said regarding thePDFF # 2
Benford,

It was great to meet you and your entire crew.
You have surrounded yourself with a great bunch of people.
Dan was a great interviewer. Say hi for me if you see him.
Had fun setting up and streaming your content each day.
Scott
==================================
The screenings have ben amazing and I was extremely touched by the children's day and the emotions shown
by folks like Ken Kragen! To be the first to hear about "We are the world" for next year...Amazing!
Benford, it was an honor to spring some magic on folks here and there and be part of something that will
soon be well known everywhere. I'm looking forward to next year already...
Richard Ferguson
=====================================
I love what you did with your website. And so many people I met are calling. It was a great
opportunity to meet some really great people. From the bottom of my heart, thank you so much.
=====================================
Dear Benford,

We had so much fun yesterday. Such a nice group of people. Paso is one of my favorite
places in California. Again, we are looking forward to today. I would love to talk to you
about introducing Lois and see what you think. It would be my privilege.

Thank you so much for such a wonderful weekend. Lois and I met so many interesting people.
I also want to thank you for your support of Children of the Night and your work to make other
aware of the struggles of kids in this world. Glad to hear your webcast worked for you.

Thanks again,
Kathleen Quinlan
Had a great time performing at the festival. Benford, you are amazing.
Michael Lewis, Musician
===========================================
Great job! I enjoyed the PRDFF last year. Thanks for all your hard work. I was made aware of this
event by my friend, Gary Conway (Carmody McKnight Winery) and attended the panel he had last
year. Benford Stanley was there too. He was very kind and informative. I love it here in Paso and
its people like you who make this an even better place to live! Let me know in the future if you
need volunteer help. If I'm available I'll help.

Thanks again!
Michael Coen Paso Robles, CA
==============================================
It was quite heartening to see a "State and Fate of Children Forum" featured at this year's Paso Digital
Film Festival. I was impressed by the many participants who clearly have dedicated themselves to
creating a more hopeful world for children. Honoring such remarkable human beings as Botso Korisheli
and Ken Kragen was a fitting end to the day.
Bravo!
Tom
============================================
Thank you so much for another great time at your festival. Kacey and I fell in love with Dan and
Sunny, such great guys. Everyone we met was so nice to us. I hope everything turned out well with
rest of festival. I know you are probably still chasing your tail winding up the event, hope you got
to enjoy Turkey Day. Take care and thanks so much again, you rock!
Blessings,
Barb
=============================================
"Really enjoyed the Paso Digital Film Festival; so many interesting people from all walks of life.
This was the second time I had met Gary Busey and we are actually meeting next week about
recording a CD with him. And thank you Ann Dandridge and Benford Standley for a most
delightful and rewarding experience; especially the part of having my daughter present the
Award to me. This is something she will remember for the rest of her life along with the exciting
day at the Festival. Thank you one and all."
============================================
Hi Benford, please let us know how we can view the concerts. We truly enjoyed every bit of it and
would like to see it on the internet. It was fun to meet Keith Potger from Australia and hear him sing
was wonderful. Our friends who came from San Diego got to meet Jack Tempchin and found out he
actually lived there too! Just to let you know we enjoyed the whole thing. Please keep in touch.
If you do see Keith, please let him know that we would love him to meet the rest of our family who
live in the Bay area.
Best regards
Melanie and Sam

Ken Kragen told the kids at Paso Robles High School...

"Every great thing balances at all times on the razors edge of disaster...

When you are doing something that you really feel is something that is very special,

and you run into the obstacles, that you always do, and the bigger the project

the more obstacles and the more crisis will exists... it is when you push through

those problems, when you don't throw in the towel and you make it work...

It is easier to do the impossible than the ordinary...I promise...it is easier to do the

impossible than the ordinary. You know why?

When you show people that you are trying something that impossible, then people

want on your side...Hands Across America was completely impossible, but I was

too naive to believe it, I didn't know better. I did not know better to think that I

could not get 45 of the top people in the world together in a room to record a song.

It had never been done before, but I didn't know better. Sometimes it is better

to not know better, sometimes it is better to just believe you can do it.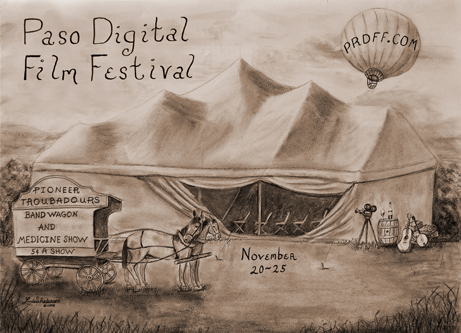 In the early days there were the troubadours and the singing minstrels, then came the medicine
Shows to the towns of America...then the tent Shows, rag operas, tent reps barnstormed, and
took entertainment on the road. Buffalo Bill Cody's Wild West Show begins to roll, and we hear
the music "there's no business like show business", then vaudeville, Broadway and the flickers...
In 1913, Cecil B. DeMille rents a barn in Hollywood near the corner of Hollywood and Vine, and
makes the movie "The Squaw Man"...the wireless, the talking machine, and on to TV, and Video,
Buddy Holly in a plane, some music dies, and Kristofferson and Willie Nelson load up and are...
On The Road Again...while the Internet streams a Wild West Digital Film Festival to the world,
from an ancient hot springs town that Jessie James' uncle built here in cowboy wine country...